Osteotomy and uni-compartmental knee arthroplasty
Knee Osteotomy is a surgical procedure in which the upper shinbone (tibia) or lower thighbone (femur) is cut and realigned. It is usually performed in arthritic conditions affecting only one side of your knee and the aim is to take pressure off the damaged area and shift it to the other side of your knee with healthy cartilage. During the surgery, your surgeon will remove or add a wedge of bone either below or above the knee joint depending on the site of arthritic damage.
Indications
Knee Osteotomy is commonly indicated for patients with osteoarthritis that is isolated to a single compartment (unicompartmental osteoarthritis).
Procedure
A high tibial osteotomy is the most common type of osteotomy performed on arthritic knees. After general anesthesia is administered, your surgeon will map out the exact size of the bone wedge to be removed, using an X-ray, CT scan, or 3D computer modeling. A four- to five-inch cut is made down in front of the knee, starting below the kneecap and running below the top of the shinbone. Guide wires are drilled from the lateral side to the top of the shin bone. A conventional oscillating saw is run along the guide wires and the bone wedge underneath the outside of the knee, below the healthy cartilage is removed. The cartilage covering the top of the outside of the shinbone is left intact. Then the top of the shinbone is reduced and fastened with surgical staples or screws. After the procedure is completed, the surgical site is then sutured usually with absorbable sutures and closed in layers.
Risks and Complications
Complications following high tibial osteotomy may include infection, skin necrosis, non-union (failure of the bones to heal), nerve injury, blood vessel injury, failure to correct the varus deformity, compartment syndrome and deep vein thrombosis or blood clots.
Unicompartmental knee replacement simply means that only a part of the knee joint is replaced through a smaller incision than would normally be used for a total knee replacement.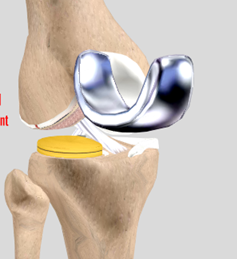 Advantages & Disadvantages
The benefits following surgery are relief of symptoms of arthritis. These include
Severe pain that limits your everyday activities including walking, shopping, visiting friends, getting in and out of chair, gardening, etc.
Pain waking you at night
Deformity- either bowleg or knock knees
Stiffness
Advantages
Smaller operation
Smaller incision
Not as much bone removed
Shorter hospital stay
Shorter recovery period
Blood transfusion rarely required
Better movement in the knee
Feels more like a normal knee
Less need for physiotherapy
Able to be more active than after a total knee replacement
Disadvantages
Not quite as reliable as a total knee replacement in taking away all pain long term results not quite as good as total knee
Surgical Procedure
Each knee is individual and knee replacements take this into account by having different sizes for your knee. If there is more than the usual amount of bone loss sometimes extra pieces of metal or bone are added.
Surgery is performed under sterile conditions in the operating room under spinal or general anesthesia. You will be on your back and a tourniquet applied to your upper thigh to reduce blood loss. Surgery will take approximately two hours.
The Patient is positioned on the operating table and the leg prepped and draped.
A tourniquet is applied to the upper thigh and the leg is prepared for the surgery with a sterilizing solution.
An incision around 7 cm is made to expose the knee joint. Smaller incisions are made if the surgery is done using arthroscopy.
The bone ends of the femur and tibia are prepared using a saw or a burr.
Trial components are then inserted to make sure they fit properly.
The real components (Femoral & Tibial) are then put into place with or without cement.
The knee is then carefully closed and drains usually inserted, and the knee dressed and bandaged.
Post-operation Care
Once stable, you will be taken to the ward. The post-operative protocol is surgeon dependent, but in general your drain will come out at 24 hours and you will sit out of bed and start moving you knee and walking on it within a day or two of surgery. The dressing will be reduced usually on the 2nd post-op day to make movement easier. Your rehabilitation and mobilization will be supervised by a physical therapist.
Usually you will remain in the hospital for 3-5 days. Depending on your needs, you will then return home or proceed to a rehabilitation facility. You will need physical therapy on your knee following surgery.
You will be discharged on a walker or crutches and usually progress to a cane at six weeks. Your sutures are sometimes dissolvable but if not, are removed at approx 10 days.
Bending your knee is variable, but by 6 weeks it should bend to 90 degrees. The goal is to obtain 110-115 degrees of movement. You can drive at about 6 weeks, once you have regained control of your leg. You should be walking reasonably comfortably by 6 weeks. More physical activities, such as sports previously discussed may take 3 months to be able to do comfortably.
Risks and Complications
As with any major surgery, there are potential risks involved. Complications can be medical (general) or local complications specific to the Knee.
Medical complications include those of the anesthetic and your general well being.
Local Complications include:
Surgical site infection
Blood Clots (Deep Venous Thrombosis)
Fractures or Breaks in the Bone
Stiffness in the Knee
Wearing of implants
Wound Irritation or Breakdown
Cosmetic Appearance
Leg length inequality
Dislocation
Patella Problems
Ligament Injuries
Damage to Nerves and Blood Vessels
Discuss your concerns thoroughly with your orthopedic surgeon prior to surgery.